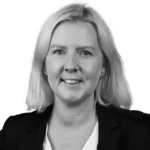 Two teams at Poolia found that they became more effective with Teamr. Read more about it and see what makes effective teams.
When recruitment company Poolia tested the Teamr tool on two of its teams, employee survey results improved and profitability increased.
- I think a large part of this is due to Teamr, which the other team members also confirmed," says Charlotte Jareby-Hellman, former Vice President Poolia Sweden.
It is important to work with team development at all levels within a company, says Charlotte Jareby-Hellman.
- Teamr appealed to me a lot because you get help with what you can actually do. Exercises, challenges and conversations for the group are very tailored to where you are as a group.
Become a dream team. Try Teamr
Testing effectiveness on two teams
Teamr was brand new at the time, so there were no concrete results to show for it. But Charlotte Jareby-Hellman wants to test on two of her teams. Could they work smarter and be more coordinated?
- We ran my team with the managers in offices around Sweden and a team sitting together in one of our offices. In the manager team, everyone had the same tasks and responsibilities and in the other team they had different roles and responsibilities.
"It's a simple, motivating and fun way to have a more successful team."
Charlotte Jareby-Hellman, Vice President Poolia
"Positive experience"
- The experience was very positive from the start. Fun to try something new. It was also fun to do the first TQS, and see where we were as a team and then work to get even better.
A Team quality survey, TQS, is a quality survey and self-assessment that is part of Teamr.
- At the staff meetings I had after the 2020-2021 year-end, everyone said that Teamr really helped to weld the team together. We became much tighter and also had better results on our employee surveys and our leadership index.
Increased profitability
- We had also become more profitable so we could see both concrete results in hard numbers plus cohesion and bonding. It led to increased collaboration between managers in a way that wasn't really there before.
Become a dream team. Try Teamr
What are the characteristics of effective teams?
3 things that research shows make an effective team:
Everyone in the team understands their goal. It is essential that everyone pulls in the same direction and that energy is put into achieving the goal.
Works independently as a separate unit with its mission.
Coordinate, plan and evaluate jointly.
How to recognise an effective team
Other things that tend to characterise effective teams are that:
It's okay to think freely and have ideas.
Everyone behaves well towards each other - there are clear and fair ground rules.
People listen to each other. If a problem is to be solved jointly, everyone must have a say and feel responsible.
Differences are appreciated. They enrich by adding more perspectives. Properly managed, differences make the team even better.
Good routines. Respect for each other's time and for the common mission.
Well-functioning leadership is the basis for well-functioning teamwork.
The leader is clear about goals and roles, and constructive feedback is given and received.
The team is properly organised. It is clear to everyone what the role of each member of the team is and they agree on those roles.
Source: Michael West
Read more
What is a team? What is a group?
After action review or experience feedback - what is it? 
Trust the Teamr process. What it's like to work with Teamr